Genre -

Electropop
Type -

Narrative/Performance
Paparazzi was wrote by Gaga and Rob Fusari in 2008, and released in 2009 as the final song for her album Fame. The song was released in the format of a CD and digital download. Although being released in July 2009, Gaga's other song " Love Game" was originally going to be the third single released, however due to the lyrics and controversy over the video, Paparazzi was released first.
Paparazzi reached the top ten in the charts in United States, United Kingdom and Canada, also reaching number one in Germany and Czech Republic.
The accompanying video shows the story and holds the narrative of Lady Gaga playing a young women who has rose to fame, and becomes hounded by photographers, then near the beginning of the video in the first scene Gaga is nearly killed by her boyfriend.
The video won two

MTV Video Music Awards

in 2009 for

Best Art Direction

and

Best Special Effects

. Gaga also performed the song at the

2009 MTV Video Music Awards

in a performance art piece symbolizing the negative effect of fame leading to death. - Wikipedia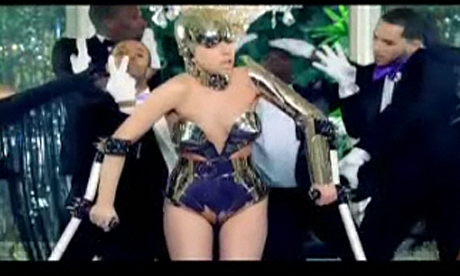 The main focus of the video is showing Gaga's comeback, strength and revenge upon her boyfriend, it also shows her experience of fame.
The second scene shows Gaga having survived nearly being killed by her boyfriend, pulling up in a limo, being helped out using these gold crutches in a tight purple costume, with jewelry on, this automatically shows her class status and her fame.
As well as having a narrative to the video, Gaga has the performance side with the dancing inbetween scenes.
A lot of bright clothes and colours are used in the video, contrasting with the theme of revenge in the video. The colours could match Gaga's mood.
Madonna's iconic bra is also replicated once again by Lady Gaga in this video during the second scene in her gold and purple suit, almost robotic effect.
Quick cuts, and integrated scenes are used during the video, in order to tell the story, and keep the narrative going.
The last scene we see Gaga and her boyfriend, this is the penultimate scene of the video, where we see Gaga poisining her boyfriend and killing him. Gaga has black glasses on and a yellow and black all in one.
The outfit could resemble a Bee or Wasps, who can also kill or sting. The killing by using poison can also in some way be stereotyping the weakness of women.